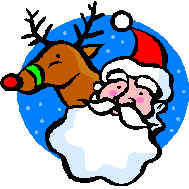 This email message arrived today. I was SO surprised, but the email address looks authentic. A genuine letter from Santa! So even if your Furby arrives late, please don't be upset children.
From   : Santa Claus <santa@northpole.com>
To     : David Reilly <dodo@fan.net.au>
Subject: RE - Late delivery of Furby
Date   : Tue, 15 December, 1998

Dear David,     
Would you please pass on my apologies to the
children who visit your site? I'm sorry, but
not every child will receive a Furby this year.
You see, adults have been buying as many Furby
as they can from stores, and I'm afraid that
our elves just haven't been able to obtain enough
for every boy and girl.

This means that only a few children will receive
their Furby this Christmas - but fear not. My elves
and I are working day and night to find more Furbies.
Your Furby will be available next year. As a
consolation, I'm sure I'll find something nice for
you in the meantime.

PS - Please let all the children know that I'll be
drawing names out of a barrel to determine which
children will get a Furby from the small supply I
have available. If you don't receive one, it isn't
because I think you've been naughty, and if you do
receive one, it isn't just because you've been nice.
Its just the luck of the draw.     
Disclaimer : Furby is the registered trademark of Tiger Electronics, Inc. This site is not affiliated with, or endorsed by, Tiger Toys. This site is a tribute to the wonder of Furby, and purely for the enjoyment of Furby enthusiasts. Authenticity of "Letter From Santa" cannot be determined, and this is not an attempt of "spoofing". Content of message boards is not endorsed or censored, and you agree to indemnify the operators and hosting providers from any liability.