Merry Christmas and a Happy New Year

It's that time of year again, and already the holiday rush is upon us. Of you're like me, you have plenty of gifts to purchase for family and friends, but not much time for shopping. Fortunately, there is a way to avoid the hustle and bustle of gift shopping. Why not try online shopping this year? Amazon.com, the world's largest online book and music store has a great selection of holiday gifts and ideas. Even if you can't buy everyone a Furby, there's still time to buy a thoughtful present or two.

Welcome to Furby Fun!
Latest news - Santa has emailed me about Furby. [click here to read email]
Welcome to Furby Fun, the place to learn more about Furbies, and to discuss all the gossip about this fun little toy. Unfortunately, many people will miss out on Furby for Christmas. But don't worry kids! Furby will be more available after Christmas, and there's still plenty of fun things to do. Would you like to sing christmas carols with Furby? Click here for some fun.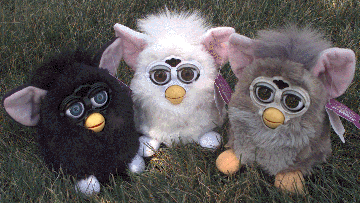 Official media/press image of three types of Furby
Hot News